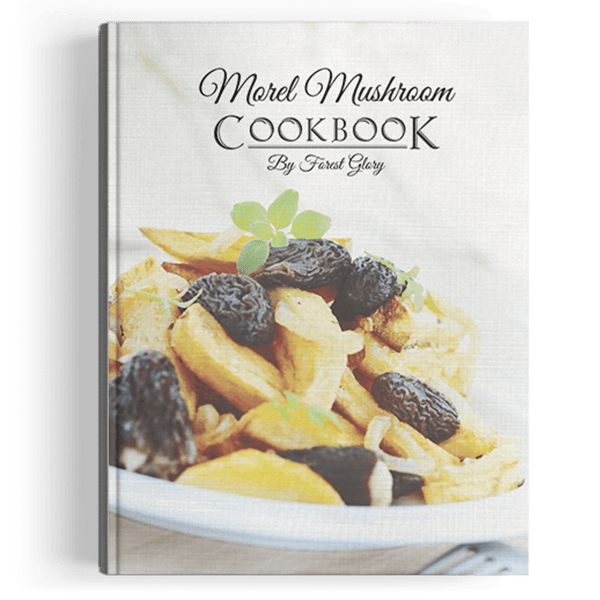 Morel Mushroom Cookbook! This professionally made cookbook features 50 recipes showcasing the morel mushroom. 
20 of the recipes were made by Chef Gregory Scheisser who has been the head chef of many acclaimed restaurants. The other 30 were created by Forest Glory's founders, Adam and Angela Schultz. Chef Gregory's recipes are a little fancier and for the more experience home chef who has a creative flair. The Forest Glory recipes are simpler and easier to make and designed for the novice chef. 
What they both have in common, is that they are delicious! Here's the recipes you will receive:
BRAISED RABBIT WITH MORELS AND PAPPARDELLE
CHICKEN LIVER PASTA WITH MORELS
FAR EAST BEEF WITH MORELS & BROCCOLINI
FOREST FETTUCCINE
FRENCH STYLE SHORT RIBS
GOLDEN TROUT WITH MORELS
HEALTHY TURKEY & MOREL MEATBALLS 
MOREL AND ASPARAGUS PIZZA
OLD COUNTRY MOREL CASSEROLE
PASTA WITH ROASTED MORELS
PENNE WITH SHRIMP AND MORELS
PEPPERCORN CRUSTED STEAK WITH MORELS, & BRANDIED CREAM SAUCE
PORT WINE CHICKEN WITH MORSELS & YOUNG ASPARAGUS
PORTUGUESE MOREL STEW
SALMON WITH MORELS AND ASPARAGUS
SIMPLE MOREL SPAGHETTI
"SOUTH OF BORDER" CHICKEN CASSEROLE WITH MORELS
SWEET SOY MARINATED PORK TENDERLOIN WITH PICKLED MORELS
TURKEY WITH CREAMY MOREL SAUCE
VEAL OR PORK CHOP WITH MORELS & BALSAMIC REDUCTION
MOREL & GOAT CHEESE FONDUE
MOREL CRACKER CRUMB FRY
MOREL MUSHROOM & BOURSIN CHEESE STUFFING
MOREL POTATO SALAD
MORELS, EGGS AND CREME FRAICHE
MORELS IN WINE SAUCE
MORELS WITH MINT AND PEAS
PANKO CRUSTED MORELS WITH SWEET SOY DIPPING SAUCE
SOUPS & SALADS CREAMY MOREL AND ASPARAGUS SOUP
CREAMY MOREL SOUP
MOREL & WALNUT BISQUE
MOREL SALAD WITH FIDDLEHEAD FERNS
SEA BEAN & MOREL MUSHROOM SALAD
SOUTHWESTERN MOREL & CORN CHOWDER
GOURMET MAC N' CHEESE WITH MORELS & HORSERADISH
GREEN BEANS WITH MORELS, WATER CHESTNUTS & FETA CHEESE
MOREL MUSHROOM STUFFING
MORELS AND RAMPS
MORELS WITH SPRING VEGETABLES
ORZO MOREL RISOTTO
SAUTÉED MOREL MUSHROOMS
BREADS & ROLLS MOREL AND ASPARAGUS SANDWICH
MOREL CROSTINI
MORELS AND GRUYERE GRILLED CHEESE
SMOKY BRISKET SANDWICHES
MOREL CREAM SAUCE
MOREL JAM
MOREL ZUCCHINI FRITTATA
ROASTED MOREL QUICHE WITH BACON, & GRUYERE CHEESE
SPICY SMOKED BACON & MOREL JAM 
Size is 9 X 7, softcover, ring binder, color cover, black and white interior, no recipe pictures, but some interior pictures in other places.
Get your's today, limited quantity available!
Shipping is FREE if you spend more than $20! We ship via USPS only. If the package is under 1 pound it goes First Class, otherwise it goes Priority Mail. Shipping time itself takes 2-4 days. Packaging time is typically one to two business days. Generally packages arrive much more quickly than this, but in case "delays happen" 5-6 business days would be in the high end.
Real Reviews From Facebook

The post is clickable and takes you direct to Facebook if you'd like to read reviews there.

The other comments are pictures if you'd like to just read them on our site.

We've been selling these same mushrooms for over 7 years and half of our business is repeat customers.
Loading
Loading